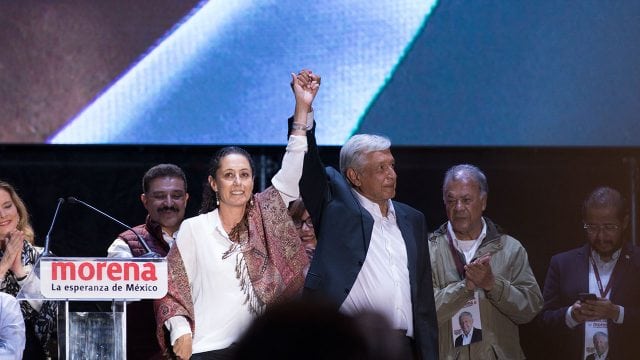 Mexico's leading presidential hopeful Claudia Sheinbaum, who sees herself as the natural successor to Andres Manuel Lopez Obrador, wants to accomplish what even her mentor wasn't able to: a constitutional change that would cement state control over the power sector.
The mayor of Mexico City outlined her plan to strengthen the ailing electricity utility owned by the state during an interview last week. The issue gained renewed urgency, she said, after the energy crisis seen in Europe, "where too much privatization has generated a diverse set of problems."
"A state electricity industry strengthens the electric system, and at the same time the private sector can participate," limited to a 46% share of the market, Sheinbaum said at City Hall. "If we manage to have a balance, based on clear agreements, then the system can grow in the future to meet all the needs of the country and strengthen renewable sources of energy."
AMLO, as the Mexican president is known, has tried to restore state control over the energy sector, but has faced stiff opposition from lawmakers who say his plan would harm competition and hinder Mexico's ability to meet environmental commitments. One of his electricity bills was blocked in congress, and another was approved but remains caught up in court cases. He has still managed to boost the state's dominance of the sector through changes to regulation and negotiation of permits.
But Sheinbaum promised that, if elected president in June 2024 with a strong congressional base, she would seek to amend the constitution to ensure that state utility Comision Federal de Electricidad controls at least 54% of the electricity market — AMLO's stated goal. The state-owned company known as CFE has said it generates about half of Mexico's electricity, and Lopez Obrador worries it could quickly lose market share if its preponderance over private companies isn't guaranteed in the constitution.
"It's necessary to strengthen CFE and be clear about what kinds of private investments are allowed," Sheinbaum said.
By giving preference to its state-owned power generator, Mexico puts at risk investments in renewable energy projects from foreign companies including Spain's Iberdrola SA and Acciona Energia S.A, as well as France's EDF and Engie S.A.
Sheinbaum has been heavily criticized for the way she has been campaigning across Mexico as a presidential candidate, neglecting a wide array of situations that need her urgent supervision as Mexico City mayor.
Source: El Financiero
---