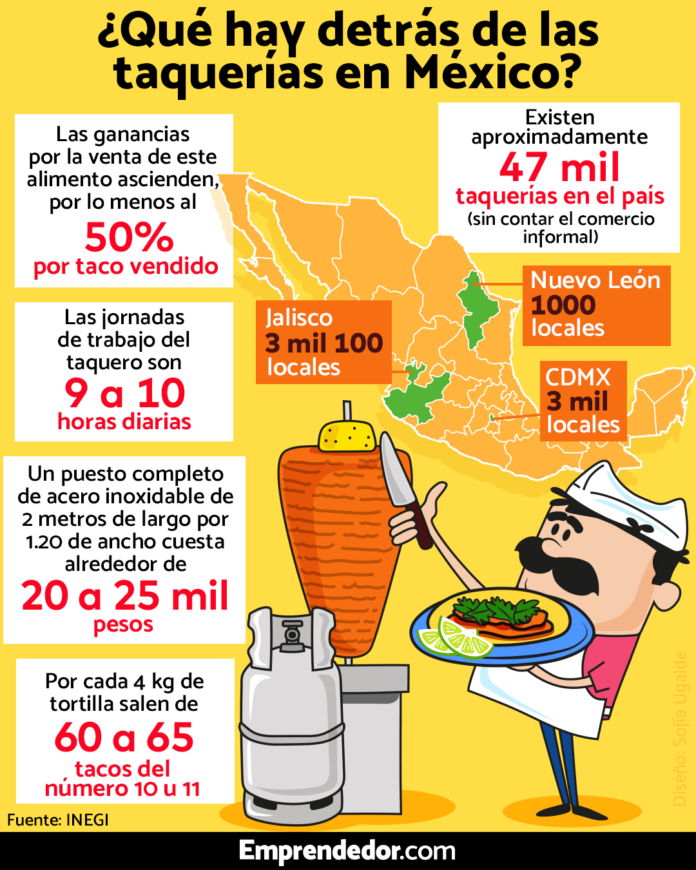 What is behind the taco stands in Mexico?
A sheet of brown paper covers a plain red plastic plate. On top of this, there are five tacos: suadero, tripa, cabeza, campechano and al pastor. They are covered by a series of golden tortillas, drained in oil and folded symmetrically; it highlights a mound of meat covered in bits of onion and a layer of cilantro.
Complementary ingredients appear: A metallic gray bowl containing green sauce and another with a red sauce pigmented with guajillo chile seeds. In front, a rectangular steel tray with lemon slices, white onions, habanero peppers and a small red salt shaker.
Instructions for tasting: Squeeze at least 4 lemon slices over the tacos, add salt to taste, choose your preferred sauce, pour a quarter tablespoon across the plate (it doesn't matter if they invade the gap between each taco). Take a napkin and place it next to you.
Take the taco with your index finger and thumb, take it to your mouth and bite: do you feel how the fried tortilla crunches as it mixes with the meat? Do you notice how the ingredients are mixed: the vegetables, the sauce and the lemon? Do you recognize the flavors of each of the ingredients?
The business of taquerias in Mexico
Tacos represent a fundamental food in Mexico. It is a gastronomic heritage, it is a complete meal, an appetizer, a dish, a craving, or all of the above options at once.
The owners of this type of business accept that the profits from the sale of this food amount to at least 50% per taco sold, which translates as a lucrative business.
The National Statistical Directory of Economic Units of the National Institute of Statistics and Geography indicates that there are approximately 47,000 taco shops in the country. Of that figure, the three cities with the largest number of stores are: Mexico City, with approximately 3,000 stores, Jalisco with 3,100, and Nuevo León with 1,000.
However, this number is relative, since calculations by independent experts indicate that the official count of these businesses located throughout the Mexican Republic is at least doubled. Considering the informal trade, which prevails in the Mexican economy, this amount could be close to reality.
How to start a taco business?
On this occasion, my sources take me to Los Reyes, La Paz, State of Mexico. They are two experts on the subject: the first is Jaime Alberto, "Coco" , who knows the business from end to end, since he has played all the roles, and Caín , owner of a taco shop with more than 30 years in operation.
I interviewed the two separately, each with different experiences, but with a panoramic vision of the business. They tell me about all the obstacles, challenges, advantages and benefits of this business.
In this sense, the most relevant aspects to start a taco business are the following:
Constancy
The two interviewees agree that perseverance is the key to "build" a business of this type.
The owner of the taco shop, "El rey del taco", delves into the subject: "I started 38 years ago and I can tell you that perseverance entails: perseverance and discipline, is the key to success. In the last 4 years I have not closed more than 15 days and I do not have vacations. This business is jealous and you have to stick to your job."
Location
The location of the premises is another important factor, Coco acknowledges: "I had the misfortune of placing myself in bad places and that cost me two businesses to close."
Given this, he recommends knowing the busiest places, a place where there is a lot of influx or a commercial corridor, "a place where it is already night, people pass by."
Investment
To have a taco stand, it is essential to have work utensils such as: choricera, steamer, machete, steel, spatula, knives, trays, plates, chairs, refrigerator, among others.
A complete stainless steel stand 2 meters long by 1.20 meters wide costs around 20 or 25 thousand pesos, recalls "Coco".
In order to have a position, in addition to the investment, you need a "little mattress" (savings) for any eventuality, he assures.
The business secrets of taco shops in Mexico
A maxim within the entrepreneurial world is that any business can be profitable, but knowledge and experience are required. Alberto, who has also owned taco stands, reveals some priceless secrets:
Ratio: Volume-Gain
Tacos are classified as small, medium and large. The first ones have a tortilla measure of 9 or 10, the medium ones from 11 to 13 and finally, the large ones reach 16 and 17½.
Therefore, you have to know how many tortillas you should buy. For every 4 kg of tortilla, 60 to 65 number 10 or 11 tacos come out, so it is important to consider sales to invest in inputs.
Amount of meat per taco
To measure the amount of meat in a taco , consider small mounds of meat that will fit in your hand. The order also influences, for example, if a customer orders 5 tacos, they will have less meat than if they order two or one.
"Obviously if you ask for a single taco, you are going to add more meat, but if they ask for more; between a little meat and more vegetables you put, plus the sauce, with that you have… the business is there", Alberto points out.
Tacos of 1 peso (and with profit)
The local taco market is wide and varied, there are taco makers who handle wholesale sales, who sell cheap so that there is a lot of consumption.
"There are even those who sell for one peso, but they are from the number 9 ½ tortilla, they don't add much meat, but they must have other ingredients such as beans or garnish," reveals Coco.
top quality meat
In the collective imagination it is thought that the meat with which the tacos are prepared comes from the "Rastros", which are facilities dedicated to the slaughter of animals, packaging, packaging, refrigerated or industrialized process.
However, for reasons of practicality, taco makers buy their meat from suppliers in local markets, with whom they establish long-term business relationships.
"When choosing it you have to be a connoisseur and as a taquero demand the best quality, upon delivery you don't realize what they gave you, because it is important to check it in parts to add salad (applying salt) and arrange it in the chorizo and if there are black parts, they have to be removed", affirms Caín.
"You have to avoid buying meat that does not have nerve, that is not lagging behind, a piece of advice is to see the color, if it is half black, it means that it has gone too far (it is not fresh)", he deepens.
mesmerizing sauces
There are different types of salsa, among the best known are: green, red, habanero, guacamole and borracha.
The traditional one has tomato and chile de árbol, its level of spiciness varies according to the amount of chile. While other sauces, such as red, have ingredients such as habanero and
guajillo chili.
The habanero sauce integrates: garlic, onion, tomato and roasted or roasted chili, without any water, the sauce is completely thick and hot.
For each kilo of tomato, you throw a handful of chiles with two tablespoons of salt, advises Coco.
Hygienic measures in taco shops in Mexico
Primarily it is important to keep the workplace clean, the interviewees agree.
"You have to take care of the meat, if you let the meat get air it may turn black or leathery, so it should always be submerged in oil and at a considerable volume of heat, if you have it very high it will burn, if You have it very low, it becomes like carnitas, you have to control the temperature ", recommends Alberto.
And he adds: "the meat can be reused from a previous day, for this, it is removed, drained of the oil or butter and refrigerated."
The profession of the taquero
In this profession the phrase applies: walker, there is no path, the path is made by walking, but there are issues that must be considered, such as the fact that work days are from 9 to 10 hours.
What consumes the most time in the food or taco business is supplying the supplies: buying meat, vegetables, Cambray onion, napkins, disposable paper, brown paper, aluminum, puree, herbs, parakeet for the consommé, etc.
Another important issue is occupational risk , since social security is not always available. In this case, it is the temperature shock, almost all the time you are exposed to heat and when cleaning, it contrasts with cold water.
Mr. Cain concludes: "it is a noble profession, thank God, if we have come out on top, we have maintained ourselves and we have grown. From here came my house, my car and I have been able to support my 3 children who also dedicated themselves to this business, (ah, but you have to work daily)."
Source: emprendedor.com