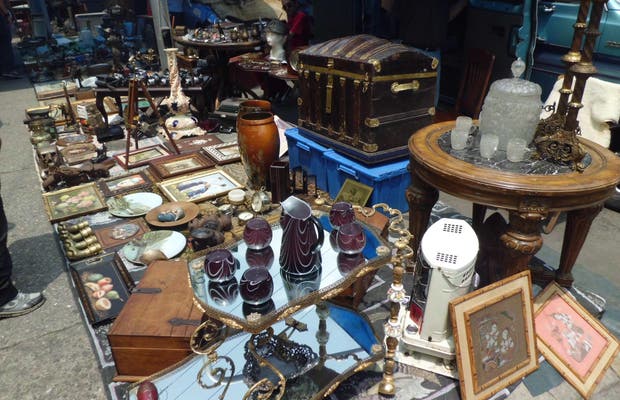 The flea markets and antique bazaars in Mexico are a window into the past, the ideal place to find historical furniture
Antiques are unique treasures. Someone with an inherited object enters through the doors of the store, hoping to make a fortune with it or simply to make it reach other hands and be as valued as it deserves. Collectibles, limited items or items related to historical moments are analyzed to give them a fair value.
In Mexico, flea markets and antique bazaars are a tradition. Whether on a regular basis or to get out of a hurry, some people offer objects to passersby. There are those who attend to buy and sell, others to collect and a few more just take it as a walk that helps them travel through time. The truth is that many interior designers and design enthusiasts have found in these places a gold mine to find unique pieces that will give that extra touch to their spaces.
Whether you are looking for a piece for your spaces or you just want to learn a little more; We list five places in the country where you can find unique pieces of furniture, decoration and lighting.
Instagram content
HQ Antigüedades | Torreón
This gallery opened its doors at the beginning of 1995 in the Colón District of the capital of Coahuila. These two and a half decades have served its founders to develop an expert eye that detects and carefully selects pieces, some of them have accompanied them since their foundation. In its offer, you can find furniture, decoration and jewelry. The gallery not only offers pieces but also purchases them and its catalog can be consulted in its online catalog.
Instagram content
Muebles en Tránsito | Mérida
MET is the acronym for Muebles en Tránsito , a furniture store in Mérida. This store seeks to reduce the production of furniture and thus the environmental impact of this industry. The dynamic consists of contacting MET and showing the antiques that they want to offer, the team passes them to the home and has them under consignment in the store, website, and social networks. Although it is not a specialty antique store, it does have items that may be of interest to collectors.
Since 1994 on Av. México the Trocadero has been placed every Sunday in the city of Guadalajara. It consists of a small tianguis of a few meters where reliquaries and the general public are placed on the walker displaying pieces of furniture, lighting, decoration, clothing and antique accessories. The vendors are placed at 9 am and at 5 pm they have already left the space. The Trocadero is not only a place of interest to buy, for some years now it coincides with the recreational road, where citizens walk along México ave.
Instagram content
Barrio de los Sapos | Puebla
The Barrio de Los Sapos is a tourist attraction in the heart of Puebla. Its old houses are a refuge for Puebla antique dealers who offer historical pieces full of design. Some of them even incorporated the offer of rustic furniture to their sales. Although jewelry can be found in these streets throughout the week, on weekends a flea market is installed where the supply of antiques is expanded. Whether you are looking for furniture or accessories or just curious about what can be found here, El Tianguis de la Plazuela de Los Sapos is a mandatory stop in the city.
La Lagunilla | Mexico City
The La Lagunilla tianguis is one of the most famous nationally. It is believed that it dates back more than 400 years and currently encompasses several streets in the Morelos neighborhood. You can find clothes, furniture, art and more antiques . But on Calle de Allende there are some wineries that house antique furniture. Being located in the capital of the country, it is common to find articles with a rich history.
Source: admagazine.com