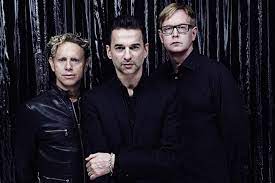 One of the most anticipated concerts of 2023 is the return to our country of the famous electronic band Depeche Mode, which will be offering three great shows at the Foro Sol in Mexico City.
It was this Tuesday, September 19, just two days after their first presentation, that the members of the group arrived in our country, among some fans who gathered to receive them and taking advantage of having them sign a few magazines and t-shirts.
However, the arrival of Dave Gahan, lead singer of Depeche Mode, unleashed criticism on different social networks as many Internet users argued that he was using excessive security so that no one would approach him.
In the different videos that have been released, the singer of hits like Personal Jesus and Enjoy the Silence is walking at the airport, surrounded by several people holding hands, thus forming a human chain to prevent any contact with the singer.
During the entire walk from him to the vehicle that was waiting for him, Dave did not interact with anyone. Only some isolated shouts could be heard, welcoming him to Mexico.
After these videos were spread, social networks did not tempt their hearts and began to criticize them in a very severe way- His behavior was offensive to fans; and others agreed since he was a music legend.
"For less than this we canceled Yaritza and her essence, clown", "No one finds him hahahaha hahahaha what a sucker. Terrible Ash", "if they don't do all that relaxation, surely the guy goes unnoticed or maybe that was the plan, that recognize him", "well yes I know who he is, but he's bluffing Hahahaha", were some of the comments.
Source: Milenio