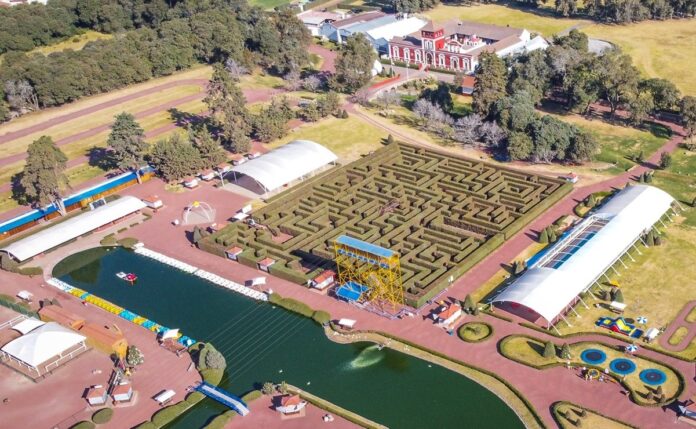 Hacienda Panoaya is an ecotourism park with two museums, adventure activities, and a spectacular English labyrinth where the challenge is to get out in half an hour.
If you are thinking of enjoying a weekend that connects you with nature, but at the same time offers fun for the whole family, you should consider a visit to Hacienda Panoaya. Located in Amecameca, in the State of Mexico, it is an ecotourism park that preserves original buildings from the seventeenth century, which were once the home of Sor Juana Inés de la Cruz; a place where in addition to knowing historical data about "The Tenth Muse" you can enjoy an English labyrinth, zip line, and other outdoor attractions.  
La Hacienda Panoaya is the perfect place for a quiet holiday and fun, as it features more than 20 attractions. Relax for a weekend with family, friends or as a couple, appreciating a beautiful view of the Popocatépetl and Iztaccíhuatl volcanoes.
What to do at Hacienda Panoaya
One of the main attractions is the English labyrinth, which will make you feel like you are in a story or in the movie "The Shining" as you walk the more than 400 meters of path with walls of vegetation high enough so that you do not "cheat". What makes this activity fascinating is finding your way out, can you get out of there in 30 minutes without getting lost in its passageways?
To have access to the labyrinth, you do not have to pay an entrance fee individually, but rather to purchase one of the two activity packages on the farm (we will tell you about them later).

Photo: Instagram @haciendapanoayaoficial
Another of the hacienda's activities is its 350-meter cycle path, for which you do not need to bring your bicycle because the staff will provide you with tailor-made equipment that will make your experience an unforgettable memory.
If extreme adventures are your thing, in the ecotourism park you will be able to "fly" by launching yourself from a zip line 12 meters high, on a 200-meter route over a small lake. An activity for the most "fanatical", as long as they are over 4 years old.
Among the 20 activities that the Hacienda has, there is an aviary, a museum of volcanoes, pedal boats, and tractor rides. Let yourself be carried away by nature in the medicinal plants workshop and stroll through the garden, where you can buy freshly cut organic plants, vegetables and legumes. 
For the little ones, there is the inflatable and bouncy area, the foam party, and the tricycles. 
Entrance costs for Hacienda Panoaya in 2022
Choose between the two packages that the farm offers, whose differentiator, in addition to 50 pesos, is the number of activities to which you will have access. They both include the English maze. 
Fun Package – Cost of 235 pesos; It includes activities such as a zip line tour, a boat ride, a bike path, a foam party, bounce houses and a plant workshop, as well as access to museums.
Paquetodo – Cost of 285 pesos. Here you can get on the zip line in an unlimited way, in addition to including extra activities such as the tractor ride and access to a semi-Olympic pool.
The costs are the same for children (from 3 years) or adults.
Accommodation at Hacienda Panoaya
Possibly one day is not enough to enjoy all the attractions, so the Hacienda Panoaya has a camping area or, if you prefer, you can stay in one of its 32 hotel rooms, whose category is four stars. It is worth mentioning that these services have an additional cost to that of the park attractions and you will have to book your stay in advance through WhatsApp.
Cost of hotel accommodation. From 1,120 pesos to 2,860 pesos per night, a price that varies depending on the room and the number of people.
The cost for camping is 200 pesos per person and per day if the stay is from Monday to Thursday, or 250 pesos from Friday to Sunday.

Photo: Instagram @haciendapanoayaoficial

What to eat at Hacienda Panoaya
Within the facilities is the restaurant "El Castillo de los Venados" where you can enjoy planted and freshly cut vegetables from the
farm's garden;  You can also find a place for hot dogs, sweets and delicious crepes, near the picnic area. 
The restaurant is an assisted buffet. The cost of the meal is 165 pesos per adult from Monday to Thursday, 214 pesos on Friday, and 377 pesos on Saturday or Sunday. 
The hacienda has a picnic area, in case you prefer to bring your utensils for the roasted carnitas. 
How to get
The Hacienda Panoaya is located about an hour from the CDMX and one of the fastest options to get there if you come by car is to take the Calzada Ignacio Zaragoza in the direction of the Mexico-Puebla highway and exit at the deviation towards Cuautla heading to kilometer 58 from the Mexico-Cuautla Federal Highway. 
But, if you come by bus, the best thing to do is to leave from the TAPO Bus Terminal bound for Amecameca, and the transport will drop you off at the entrance of the hacienda.
Hacienda Panoaya is open 365 days a year from 10:00 to 17:30; You can buy your tickets at the box office but, if you plan to enjoy a few days in this paradise, we recommend you make your reservation in advance.
Contact
Telephone: 5979785050
Instagram: @haciendapanoayaoficial
Facebook: Hacienda Panoaya 
Web: haciendapanoaya.com