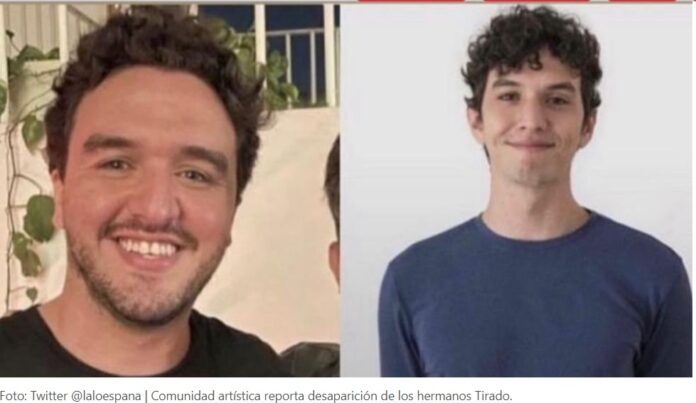 The Mexico City Attorney General's Office is investigating the murder of the brothers Jorge and Andrés Tirado, who were reported missing last Friday in the Roma Norte neighborhood; both were found dead inside a home in the same neighborhood, along with the body of a third person, an older adult.
According to unconfirmed reports, the brothers (34 and 27 years old), as well as the older adult, were found bound, with their hands and feet tied.
The agent of the Public Ministry of the General Coordination of Investigation of High Impact Crimes, gave intervention to specialized personnel of the General Coordination of Forensic Investigation and Expert Services, experts in the areas of criminalistics, genetics, dactyloscopy, chemistry, and photography, to carry out the removal of the bodies, collect evidence, as well as to make the corresponding opinions.
La #FiscalíaCDMX integra una investigación, luego del hallazgo de tres hombres sin vida, entre ellos un adulto mayor, en el interior de un domicilio, ubicado en la colonia Roma Norte, alcaldía Cuauhtémoc. pic.twitter.com/qxKASYcVc2

— Fiscalía CDMX (@FiscaliaCDMX) December 19, 2022
Detectives from the Investigative Police (PDI) carry out the search for witnesses, both for identity and at the scene of the events, as well as for images from surveillance cameras.
While a multidisciplinary cell of the General Directorate of Attention to Victims already provides psychological and legal support to relatives of the deceased.
The Prosecutor's Office reported that it will be the necropsy of the Law, which will determine the cause of death of said people.
It stands out that members of the artistic community such as the actor Eduardo España were the ones who warned of the disappearance of the brothers through social networks.
Our fellow actor Andres Tirado and his brother Jorge Tirado are missing. Any information is appreciated by emailing [email protected] We hope they are well, Mexican comedian "Lalo España published on his Twitter account.
Source: 24 Horas