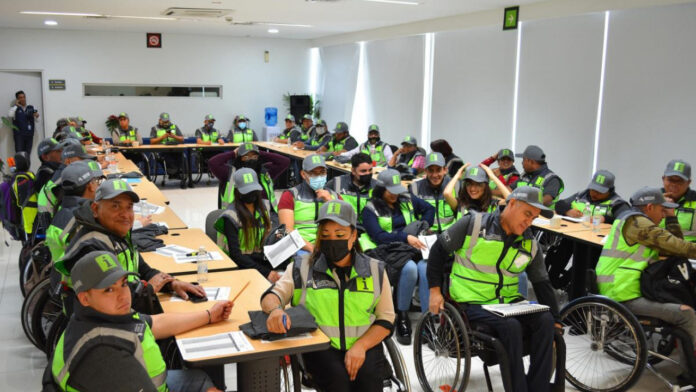 The Mexico City International Airport (AICM) "Benito Juárez", in the Mexican capital, resumed this Saturday its service program for national and international travelers and reactivated 50 temporary positions for people with disabilities and the elderly.
The "Winter 2022 Passenger Support Program" returns on December 17 and will be in force until January 15, 2023, after it was suspended due to the health contingency and the restrictive measures due to Covid-19.
With this program and with a focus on inclusion and labor equity, the AICM hired 50 Mexican bilingual adults, most of these people with some type of disability and older adults.
The group of people, between men and women, on foot and in wheelchairs, will be located in the corridors, documentation bays, train stations that interconnect to the airport terminals and at the main access doors to "Benito Juárez".
Said personnel will provide information on the facilities and services offered by the air terminal, such as the location of the screening filters, waiting rooms, airline counters; migration and customs modules.
Likewise, where to locate the Federal Consumer Attorney's Office for some advice, lost and found office, fast food area, authorized taxis, foreign bus terminals, parcels, or internet, among others.
The Mexicans who will join the AICM in the 2022 winter season received prior training, in which they were provided with everything they needed "to respond effectively and kindly to the requirements of each traveler."
"The most frequent questions asked by users are about flight arrival and departure times, passenger inspection points (review filters), offices, waiting rooms, and baggage check-in areas," the airport detailed.
Source: OEM