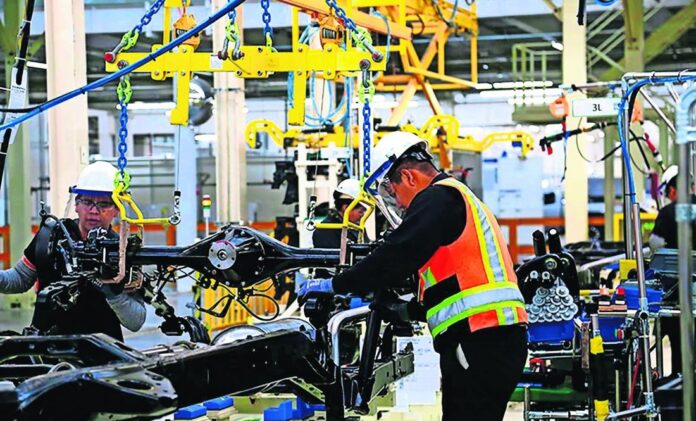 Experts pointed out that not only are industrial parks required for companies to settle, but infrastructure is needed for the families of the workers and managers who will arrive.
The great attraction that Mexico has to attract investments via nearshoring or relocation will not be taken advantage of if it does not have human talent, electricity, gas, infrastructure, services and the rule of law, experts agreed.
Not only are industrial parks required for companies to settle, but infrastructure is needed for the families of the workers and managers who will arrive, and in many states, there are not enough services for this.
During the Nearshoring Summit MX event, organized by the Aspen Institute of Mexico and the Universidad de la Libertad, the director of Sustainable Economy of the Mexican Institute for Competitiveness (IMCO), Jesús Carrillo, said that a survey carried out by them concluded that there are at least four aspects that companies look for to invest and they are: infrastructure, housing and services, talent understood as trained personnel and rule of law.
Carrilo stated that people's talent is the most important thing to have productivity and competitiveness, which is why specialized labor of all types is required, that is, machinists, drivers, operators, technicians, among others, so that there are states that are aware of this needs, they have even developed universities for drivers.
Infrastructure is also required, which includes not only industrial parks, but also electricity, natural gas, water and other services.
However, there are new entities that do not have access to natural gas, for example, Quintana Roo; There are states with water problems like those in the North of the country, among other factors that are important to address.
Investors are looking for housing, urban development and basic services for the families that arrive, such as sewage, water, streets, lighting, among other things in which they are not investing as quickly, so the municipal and state authority needs to plans around these requirements.
Finally, he explained that investors seek the rule of law, they want clear rules of the game so that they can plan medium and long-term investments.
At the event, the Undersecretary of Infrastructure of the Ministry of Infrastructure, Communications and Transportation, Jesús Felipe Verdugo, said that, in Mexico, there is road infrastructure, highways, ports and railways, but sometimes, to make movement more agile of merchandise it is necessary to make crossings at booths more efficient or improve cargo transfer.
"We have enough seaports on the Pacific side and on the Gulf side, which are closely linked by roads and railways, and what is needed is to improve the technique and modernize the transfer of cargo to make it faster, so that at "Ultimately we can have more competitiveness, not think about having bigger roads."
He considered that at the borders there are no problems of saturation of roads or trains, the problem is when approaching the city, "that is, we have good communication routes, yes, they require more maintenance, but we need the toll booths to be more agile, improve technologies to make faster crossings," he explained.
The leading partner of Valuation & Modeling at Deloitte, Adriana Berrocal, said that political decisions must facilitate investments and must be long-term, instead of public policies being limited to six-year periods and deadlines.
She considered that to be more competitive and attract more investments through nearshoring, working capital and the rule of law are required.
For his part, the founder of TeleSoft Partners, Arjun Gupta, explained that we must think about long-term policies and strategies, creating special zones to export with special incentives and also considering schemes in which there are special visas to bring human capital to the countries that require it.
Source: El Universal