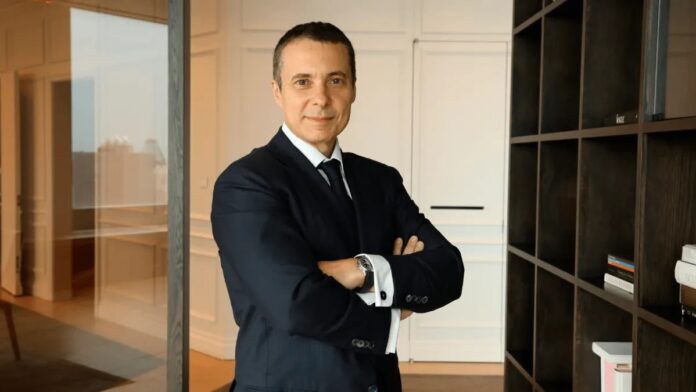 The number of companies that want to come to Mexico is growing and that will bring business opportunities for financial services providers, says JP Morgan's global director of Payments, Takis Georgakopoulos.
We have a great business in Mexico and we have expectations that it will grow, the truth is that for Mexico the stars have aligned, says Takis Georgakopoulos, global director of Payments at JP Morgan. Mexico has increased its position as a partner of the United States and its role in the region. The flow of investments from the United States, but also from China and Europe, is growing. "For our payments business, all this offers excellent prospects," explains the executive.
In the United States we see much more interest from companies in doing business in Mexico, says Georgakopoulos. "They are making investments here and that translates into financial services needs. "That means more opportunities for our banking business and also for our payments business: payroll management, payments, repatriation of money, transactions related to purchases of raw materials or inputs in other countries."
Why Mexico? Things changed with the pandemic and then with international conflicts, he says. "If I were in a manufacturing business and had to choose where to put my next factory, Mexico would be at the top of my list. It has many things in its favor: labor is much cheaper than in China, transportation costs to or from the United States are competitive, and it also has the North American trade agreement. Everything is in favor of Mexico, that's why I say the stars are aligned."
Gergakopoulos is in charge of a division that represents about 8% of the profits of JP Morgan, the largest US bank. They process transactions for 1 trillion dollars a day. "In three years, we have multiplied the operations we do tenfold. This is possible through the use of Artificial Intelligence and Machine Learning, as part of a radical change. Payment systems have undergone a revolution in recent years. What is happening now contrasts with what was happening until ten years ago in this activity… We could say that payments were a monotonous, sleepy business."
One of the great transformations that the payments business is experiencing is in relatively simple processes, such as verifying the data of people and companies that send or receive money.
This is key to comply with anti-money laundering and terrorist financing regulations. This is how the executive explains it: "We have machines that are between 10 and 100 times faster than the best human we have ever had. Machines detect things and serve as filters. They don't eliminate human work; "People take charge of cases in which more judgment and sensitivity are required."
In the near future, for the payments business, there is the full incorporation of biometrics and programmable money. This is how Georgakopoulos describes it: "We are very close to not needing a card or your cell phone so you can make payments. Cybersecurity issues remain to be resolved, the challenge is greater because criminals have also evolved in the use of technologies, but I am confident that it will be resolved soon… as for programmable money, it is being used in large transactions between companies. Money is transferred in real time to an account the moment a load reaches a point… it is the internet of things applied to the payment system."
About the prospects for the payments business in Mexico, Takis Georgakopoulos says "Mexico has done many things, but there is still much to do. The great challenge is to ensure that transactions are carried out in real time, with a minimum of friction and costs. We see great progress in the digital payment system, but the use of cash is still very large. It is up to Mexico to say what the next big step in the payment system will be and how it wants to do it. In China it was a big technology company that brought the changes, with the We Chat App. In Brazil and India, it was the Government that led the changes… it is up to each country to define its own path."
Source: El Economista