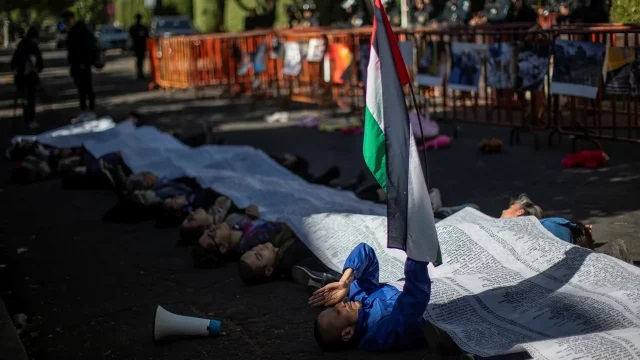 The Friendship and Common Platform of Support for Palestine organizations met in front of the Israeli Embassy in Mexico to protest against the deaths of minors in that region and ask "for the genocide to end."
This was explained by Paola Lince, one of the coordinators of the "die in" type protest, which consisted of the protesters lying on the floor pretending to be dead and, on top of them, placing a tarp with the names of minors killed in Palestine between October 7 and 25, 2023.
"The only thing we want and dream of is for the genocide to end," said Lince, who asked Israel to apply a ceasefire so that "so many lives stop being lost."
In turn, one of the representatives of Amistad, Manuel Mavroleon, denounced that Mexican citizen "do not receive the true information about the conflict", which is why they promote this type of actions, and warned that it will be a contest "where "The majority of the victims are going to be children."
The young protester of American origin lamented the situation between Israel and Palestine: "It is very sad because there are many children who are my age, friends like me, who have a life like me."
They criticize the position of the Mexican government
On the other hand, both Lince and Mavroleon criticized President Andrés Manuel López Obrador and his cabinet for the decision not to break relations with Israel.
"We understand that the president is in a difficult situation, he has the US demanding that Mexico not take action on the matter or, rather, that it takes action in favor of Israel," acknowledged the Amistad representative.
Even so, he expressed feeling "disappointed" by a president "who calls himself left-wing and is not ready" to take a position on an issue "of international and human solidarity."
Lince opted for the rupture of both commercial and diplomatic relations between Mexico and the Jewish State, even if it is not "forever": "Just for a while, so that this is over, the occupation ends and we have peace again."
Both organizations plan other actions throughout November, such as a march from the Israeli Embassy in Mexico to the Angel of Independence next Sunday.
The war began on October 7 with a Hamas attack in Israel that left at least 1,200 dead and more than 240 hostages taken to Gaza, while Israeli bombings in the enclave have caused more than 11,500 deaths in the Strip.
Source: Forbes