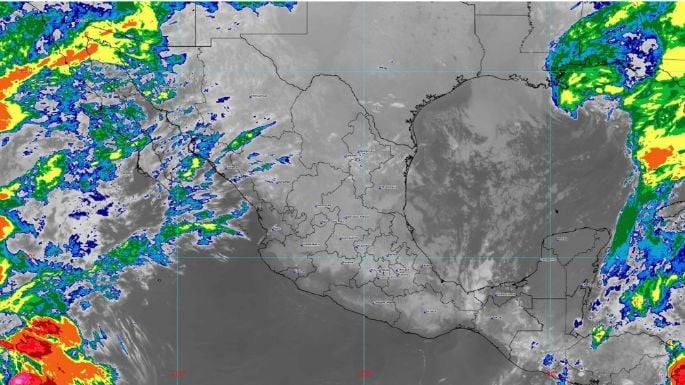 This Wednesday the National Meteorological Service predicts that cold front No. 9 will move over the southeast of the country and the Yucatán Peninsula, producing very heavy rains to occasionally intense rains in these regions.
The cold air mass associated with the front will continue to generate a strong to very strong "North" event in Veracruz, Tabasco, the Yucatan Peninsula, the Isthmus and the Gulf of Tehuantepec; Likewise, it will maintain a cold to very cold environment in the north, northeast, east and center of Mexico, during the morning and night; However, it will begin to modify its thermal characteristics, leading to a gradual increase in evening temperatures in the aforementioned regions.
On the other hand, the subtropical jet stream, combined with instability at high levels of the atmosphere, will cause strong gusts of wind, showers and heavy occasional rains in the Baja California Peninsula and Sonora.
Likewise, a low pressure channel, in combination with the entry of humidity from both oceans, will generate rain and intervals of showers in the west, center and south of the national territory.
Rain forecast:
Very heavy rains with intense occasional events (75 to 150 mm): Veracruz (south), Oaxaca, Chiapas and Tabasco.
Heavy rains to very heavy occasional rains (50 to 75 mm): Campeche and Quintana Roo.
Intervals of showers with occasional heavy rains (25 to 50 mm): Baja California and Yucatán.
Shower intervals (5 to 25 mm): Baja California Sur, Sonora, Michoacán, Guerrero and Puebla.
Isolated rains (0.1 to 5 mm): Jalisco, Colima, Tamaulipas, San Luis Potosí, Querétaro, Hidalgo and State of Mexico.
The rains will be accompanied by electric shocks and possible hail; Likewise, rains in the range of strong to intense could cause reduced visibility, landslides or flooding, as well as an increase in the levels of rivers and streams.
Maximum temperatures forecast:
Maximum temperatures of 35 to 40 °C: Baja California Sur, Sonora, Sinaloa, Nayarit, Jalisco, Colima, Michoacán, Guerrero, Oaxaca (coast) and Chiapas (coast).
Maximum temperatures of 30 to 35 °C: Morelos, Puebla (southwest), Tabasco, Campeche, Yucatán and Quintana Roo.
Minimum temperature forecast:
Minimum temperatures of -5 to 0 °C with frost: mountains of Baja California, Chihuahua and Durango.
Minimum temperatures from 0 to 5 °C: mountains of Sonora, Coahuila, Nuevo León, San Luis Potosí, Zacatecas, Aguascalientes, Michoacán, Guanajuato, Querétaro, Hidalgo, State of Mexico, Tlaxcala, Puebla, Veracruz and Oaxaca.
Wind and wave forecast:
"North" event with gusts of 70 to 90 km/h: Isthmus of Tehuantepec, and with waves of 2 to 4 m high: Gulf of Tehuantepec.
"North" event with gusts of 40 to 60 km/h and waves of 1 to 3 m high: coasts of Veracruz, Tabasco, Campeche and Yucatán (west).
Wind gusts of 40 to 60 km/h: Gulf of California, Baja California and Baja California Sur.
Source: Proceso