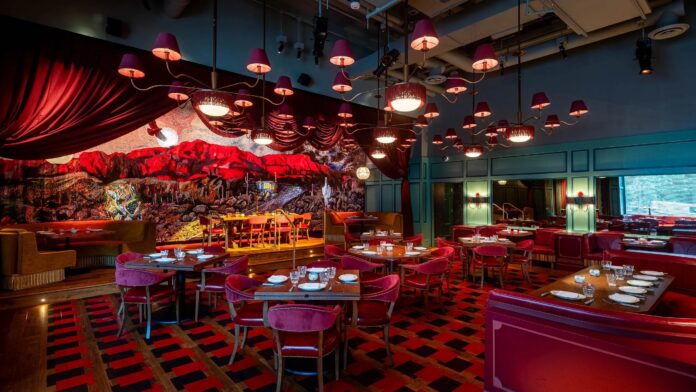 El Presidente can only be likened to strolling through the front doors of a funhouse. Between the fringe-lined bar seats, playful 3D dioramas, lush wall murals, and velvety mustard-hued booths in the "Theater Room," an abundance of visual stimuli keeps guests guessing at every turn.
El Presidente draws its show-stopping aesthetic and culinary influences from the bustling intensity of Mexico City, aiming to bring a dash of the vibrant, high-energy metropolis to D.C.'s Union Market district (1255 Union Street NE).
Opening Wednesday, September 6 with dinner service to start, El Presidente is the latest venture from James Beard award-winning hospitality magnate Stephen Starr. His Philadelphia-based STARR Restaurants group is also behind Union Market district's stylish steakhouse St. Anselm and bakery Bread Alley, as well as Logan Circle's perennially packed French fixture Le Diplomate. Starr is no stranger to festive Mexican establishments, as seen with El Vez and El Rey in Philly.
"Just like Mexico City, where you have all this migration toward the city from all parts of Mexico, we're also taking inspiration from those other regions of Mexico," corporate chef Andres Padilla tells Eater. "We're looking at it through a lens of Mexico City, but there's inspiration from Oaxaca, from Baja, from Veracruz, from northern Mexico, Puebla — all of that gets pulled into the menu we have."
El Presidente kicks off the party with items like Baja-style coastal oysters garnished with savory salsa negra and citrus miñoneta and monster prawns accompanied with Mexican coctel sauce. Other menu highlights include giant Oaxacan tostadas, red chile-marinated al pastor tacos, whole roasted cauliflower with ancho-pecan pipián, and pescado a la talla (whole striped bass). Additionally, expect guacamole variations using rich Michoacán avocados.
There's also a shareable "Gran Torre De Mariscos," an extra-large seafood tower that is a production all its own; king crab draped in nutty salsa macha; and hamachi aguachile crudo finished with fennel tops for a hint of sweetness.
"The aguachile is totally inspired by a classic Sinaloa aguachile, which is like the birthplace of aguachile," Padilla says. "Instead of chiltepín, we're using serrano chiles, lime juice, cucumbers, just to change it up a little bit."
On the drinks front, it's all about agave at El Presidente, which has "upwards of 200 agave spirits" on hand, according to director of bar operations Mark Murphy. "Mezcal is very much like wine, [in terms of] the variety, so the menu is split up by varietals," Murphy says. "It's easier to kind of see how they differentiate from one another, which I think is pretty fun."
The cocktail program features drinks like Sgt. Pepper, with mezcal, Ancho Reyes chili liqueur, red bell pepper juice, Thai chili and chili salt; Air Force Uno, made with Mexican rum, salted-grapefruit, guajillo pepper, mint, and Topo Chico; interactive michelada "service" for the table; and of course, plenty of margarita options.
"The cocktails are kind of all over the place in a great way," Murphy says. "I take what I do very seriously and not take myself very seriously. This menu is very, very evident of that."
The sprawling space with room for over 190 guests encompasses three separate interior dining areas, in addition to a year-round patio that seats up to 77.
For executive chef David LaForce, the objective is to create a dining experience that leaves a mark — and keeps people coming back for the thrill of it all.
"I want them to feel energized because they had such a fun time," LaForce says. "There's gonna be a lot of sensory overload when you come into the restaurant and the food's gonna be the same way. That's what I mean: You just had an experience. It wasn't just a good dinner."
To start, El Presidente will open for dinner service only. Lunch and brunch service will follow in the coming weeks.
Source: Eater