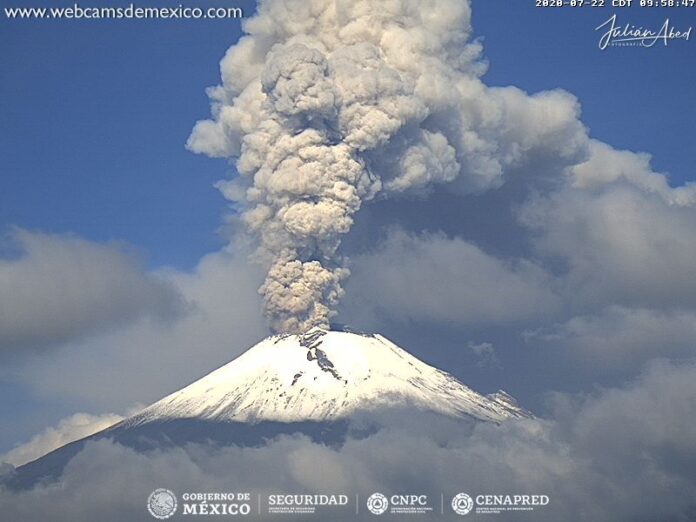 Millions of people in Mexico have been warned to prepare for a possible evacuation after increased activity from the country's most dangerous active volcano, which has been spewing ash into several nearby towns since last week, according to authorities.
Ash from Popocatépetl volcano, which is in a central part of the country, has delayed flights in Mexico City and led authorities to close schools in dozens of municipalities.
Some 25 million people live in a 60-mile radius of the volcano, which is about 45 miles southeast of Mexico City and located between the states of Morelos, Puebla, and state of Mexico.
On Sunday, the National Civil Protection Coordination (CNPC) increased its volcanic threat level to "yellow phase 3," which calls on some 3 million people who live in towns and villages adjacent to the volcano to stay alert and prepare for a possible evacuation.
The CNPC also warned of greater volcanic activity and the dispersion of ash into several nearby towns at high speed. It also recommended that residents nearby avoid outdoor activities.
"In the case of Mexico City, the risk is ash fall. We are prepared for that scenario and we know what to do. Let's stay alert," Mexico city's mayor Claudia Sheinbaum said in a tweet on Sunday.
Popocatépetl volcano spews ash and smoke as seen from Puebal, state of Puebla, Mexico, on May 18, 2023. – Jose Castañares/AFP/Getty Images
---
Mexico City's Benito Juárez International Airport (AICM) was temporarily closed on Saturday and some flights were delayed on Monday due to the presence of volcanic ash, according to airport authorities.
"Air travelers may continue to experience additional flight delays, cancellations, or temporary airport closures with little or no warning," the US embassy in Mexico said, with the airport also issuing a similar alert.
Source: OEM
---