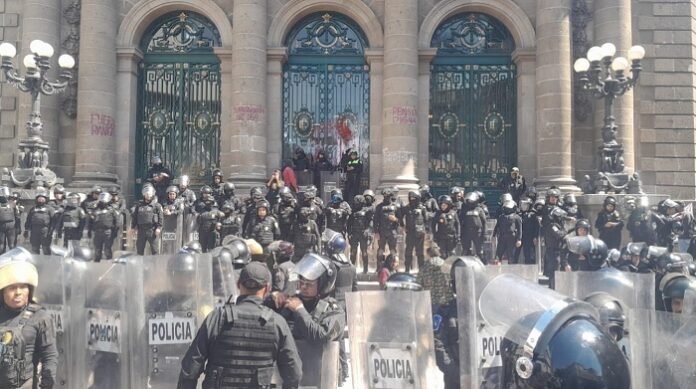 A group of transgender activists violently broke into the facilities of the Congress in Mexico City as a protest against the bill of the PAN deputy, América Rangel, which prohibits gender change in minors.
The events occurred around 11 in the morning this Tuesday in the building located on the corner of Donceles and Allende, in the Historic Center of the capital. Several members of the LGBTTTIQ+ community arrived there and demanded to speak with the PAN political party legislator.
#AlMomento Colectivos trans 🏳️‍⚧️se manifiestan frente al @Congreso_CdMex; hay pintas, destrozos y presencia de @SSC_CDMX. pic.twitter.com/1PrLf1mTAb

— Central Municipal (@Central_CM) February 21, 2023
As congressional security personnel did not let them pass, some of the protesters began to hit the windows and doors of the compound with various objects, in addition to throwing paint and painting the walls.
During the actions, two protesters managed to enter the lobby and pushed and pulled the guards, who prevented them from entering the plenary hall. It was then that they threw powder from fire extinguishers at them.
🇲🇽📢🔺Activistas también demandan se deroguen los artículos 159 del Código Penal de la CDMX que habla del tipo penal "peligro de contagio" que criminaliza el hecho de vivir con VIH o cualquier otra condición de salud.

📢 @Alainwho @VIHveLibre pic.twitter.com/rUfWuMzAEl

— Agencia Presentes (@PresentesLatam) February 21, 2023
After several minutes of disorder, one of the two protesters managed to get out, but another stayed inside. This caused the protest to also demand her release.
Dozens of police officers from the Secretariat for Citizen Security (SSC) arrived at the scene with helmets and shields that were placed in front of the entrance to the compound to protect it and prevent further attacks.
After the spirits calmed down, the protesters withdrew from the place, while inside, the ordinary session of the CDMX Congress was suspended.
Source: Proceso