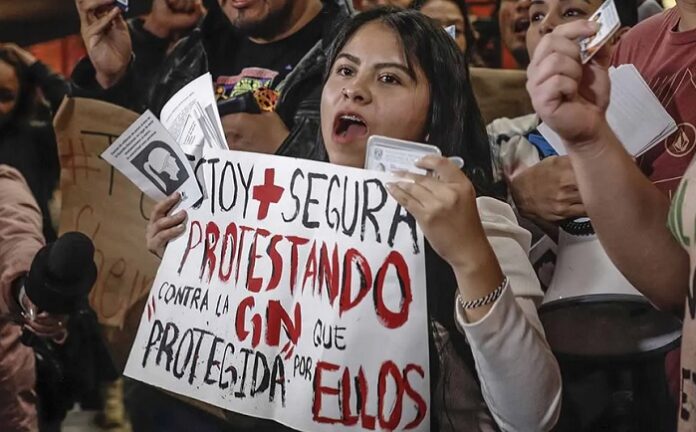 Activists protested on Wednesday, January 19th, at México City's Medical Center metro station to demand that the 6,000 National Guard officers, who since last week have been performing security tasks at the city's metro stations, be withdrawn.
The demonstrators, members of the Rethink Democracy student organization, shouted slogans like "We're not criminals, we're citizens," and "No soldiers, safe metro."
In addition, they called for the "immediate" firing of metro director Guillermo Calderón and demanded that maintenance work be performed on the metro rather than have the army or National Guard, which is subordinate to the army, deployed there.
"It's impossible for (metro) users to feel safe in the metro facilities. We can't be having the stations collapsing, the metro falling apart, derailing, crashing into each other," said one of the activists, Emiliano Rojas.
The organization issues a list of demands in which they said that, aside from the withdrawal of the National Guard and Calderón's firing, they want a public dialogue to be launched, for student groups to be included on the metro's Consultative Council and for the metro budget to be hiked by 50 percent.
They also demanded that México City Mayor Claudia Sheinbaum appear before the Chamber of Deputies to be questioned "due to the alarming metro situation."
The controversy erupted several days ago at President Andrés Manuel López Obrador's morning press conference, where he announced that the National Guard would be deployed in the metro stations after the Jan. 7 accident in which an 18-year-old woman died and more than 100 people were injured.
Sheinbaum denied that maintenance work had been curtailed on the metro and justified the deployment of the National Guard due to "incidents outside the norm" on the metro, one of the largest such urban rail systems in the Américas, transporting almost five million passengers each day.
The metro has become a political football because Sheinbaum is one of the public figures favored to succeed López Obrador in the 2024 presidential election, along with Foreign Minister Marcelo Ebrard, who was the capital mayor when the metro's troubled Line 12 was constructed.
Source: Aristegui Noticias