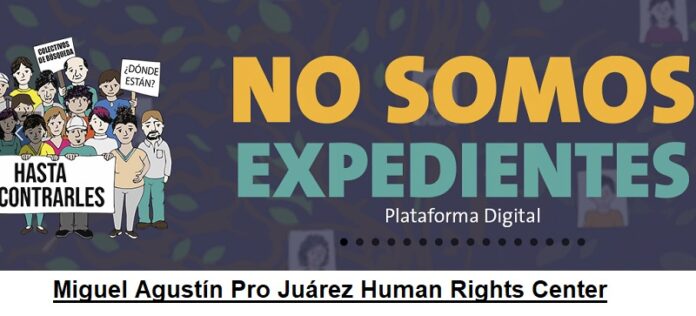 On Wednesday, January 18th, a Mexican human rights group launched an online guide for people searching for missing relatives, a real need in a country where authorities are slow to act.
Mexico has almost 110,000 people listed as missing, but many of the most effective searches are carried out by relatives or activists. Mexico's antiquated, underfunded police system has been overwhelmed by gang-fueled abductions and killings.
Meanwhile, the legal system is arcane in terminology and procedures and makes little allowance for people unfamiliar with legal terms.
Because families have to confront a steep learning curve when someone goes missing, the online guide tells people what the legal steps are for filing anything from a crime report to a constitutional injunction.
The Miguel Agustín Pro Juárez human rights center hopes the guide will help people find and preserve evidence and testimonies, and eventually find their loved ones.
María Luisa Aguilar, a director of the human rights center, said families "face prosecution officials every day who are at best indifferent to their requests."
Relatives often have to request and collect evidence like video camera footage and telephone records themselves.
Jacqueline Palmeros had to learn all this quickly for herself 2 1/2 years ago, when her daughter Jael Montserrat disappeared after boarding a vehicle on the outskirts of Mexico City.
Palmeros hopes the new guide will help others "to persevere in the pursuit of truth and justice," and avoid having to learn it all as they go.
It is an uphill battle. Mexican authorities have about 52,000 unclaimed bodies on their hands that they have been unable to identify. With morgues overflowing, they have been forced to bury them in paupers' graves. This means the cases of many missing people may never be solved.
Source: Miguel Agustín Pro Juárez Human Rights Center