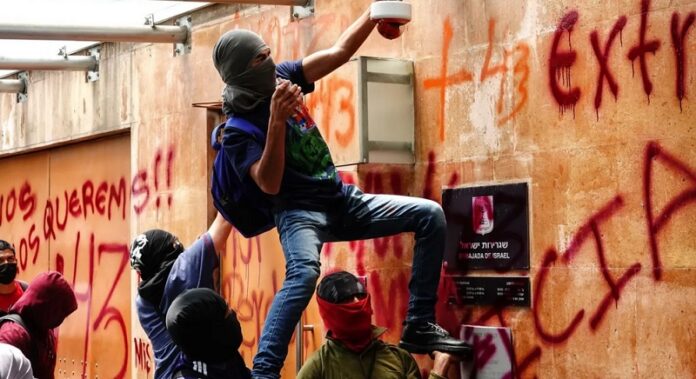 A group of protesters spray-painted and vandalized the Israel Embassy in Mexico City. They demanded the extradition of Tomás Zerón, former head of the Criminal Investigation Agency (AIC). They want him to be presented before Mexican authorities for the case of the 43 Ayotzinapa students (Normalistas).
Parents of the 43 Normalistas from Ayotzinapa protested in front of the Israeli embassy in Mexico City to demand the extradition of Tomás Zerón.
The relatives of the Normalistas accompanied by students from the Raúl Isidro Burgos rural school arrived in 26 buses near the Israeli embassy, ​​located on the corner of Sierra Madre and Montes Escandinavos, in the uptown neighborhood of Lomas de Chapultepec.
#ÚltimaHora | Normalistas realizan pintas en la Embajada de Israel en México, exigen la extradición de Tomás Zerón para presentarlo ante autoridades mexicanas. #NoticiasMX con @campossuarez | #SiempreEnVivo | #SiempreContigo pic.twitter.com/MMi2DrRcWV

— Foro_TV (@Foro_TV) September 21, 2022
The group of hooded men painted the building and destroyed surveillance cameras.
Almost 8 years after the disappearance of the 43 students from the Rural Normal School of Ayotzinapa, the parents assured that they will continue to protest until Tomás Zerón de Lucio is extradited from Israel.
After two hours of demonstration, the protesters withdrew aboard 26 buses.
Source: Foro TV