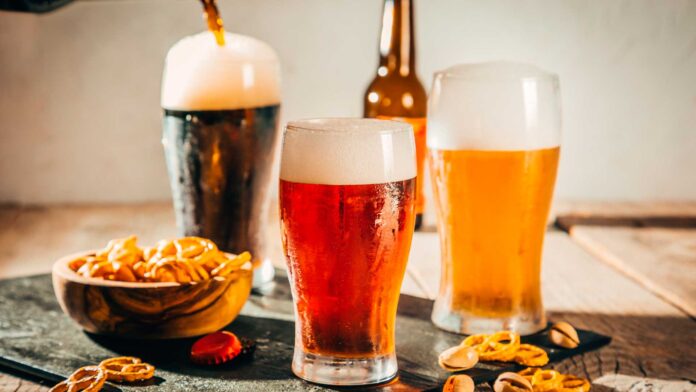 One of the most representative drinks in Mexico is beer, the one that with a single drink refreshes you and makes you resurface and recharge your battery. Did you really feel like it? And if you could enjoy all the wide range of national beer in one place, it would be a dream come true. So what do you think? That place exists and it's called HOP The Beer Experience which gives you a tour of Mexico through its beers. We crave you and try them all so that you continue celebrating the National Holidays! 
Craft beer flight at HOP The Beer Experience
How many beers are you able to taste? Find out in the Tap Room of HOP The Beer Experience, which holds the title of being the one with the most connected taps in all of Latin America, with 52 lines with the best beers in the country. Although if your craving is more international, it also has options of Belgian and Czech beers. But today it is about Mexico.
Let the experience start from home, because before you arrive at HOP, you can check their beer menu online, so you can know the availability of the drinks you want to try.
Thus, you can start thinking about "what destination" to start your flight -trip- through Mexico, which consists of a sampler of five 80ml chelas, which is written down on a ballot so that you can enjoy them in order, and that the experience allows you know the flavors and proposals of breweries from all over the country.
From the center to the north
Begin your tour of Mexico at HOP The Beer Experience starting from Mexico City, through beers such as Quinto Piso – Berliner Weisse, Pale Ale – Central Cervecera, and then "fly" to Baja California with beers such as Búho breakwater – American Pale Wheat , Sipa Tuna Turner – American ipa, or Vaquita Marina – Pale Ale.
It also has beer from Guadalajara such as Cold IPA – Cold Spell from Minerva, from Mérida with labels such as Fruit Beer – Medusa from Thodes Brewery, from Michoacán with beers such as IPA – Dos Estrellas from Capellina, from Monterrey with Mexican IPA Rrey with Tuna Roja from Rrey, or from Morelos with beers like NEIPA Cañadas de Malta.
Some of the domestic beer options at HOP The Beer Experience come from Mexican breweries such as: Falling Piano Brewing Co, Cervecería Cyprez, Cervecría Nómada, Cervecería Wendlandt, Central Cervecera, Cervecería Insurgente, Obni, Rrey, Cañadas de Malta, Thodes Brewery and Colima Brewery.
Boosting Mexican Business
When you visit HOP you will be delighted to know that it is a space where there is a great commitment to microbreweries, since one of its objectives is to support Mexican brewing talent and that is why a line is always dedicated to giving space to these small projects. .
Tour Mexico as many times as you want during your visit to Hop, each flight has a cost of $150 to $250, depending on the Mexican beers available. Also enjoy its gastronomic offer with delicious snacks such as hot chili nachos, potato wedges, wings, boneless, pizzas, ribs and do not forget to try the pizza dog, you will be surprised! Celebrate Mexico this national month and all year long at HOP The Beer Experience. Where: Av. Cuauhtémoc 870, Narvarte Poniente, Benito Juárez, 03020, CDMX. IG: @hop_tbe
Keep enjoying the Fiestas Patrias in these very Mexican restaurants. 
Source: foodandtravel.mx