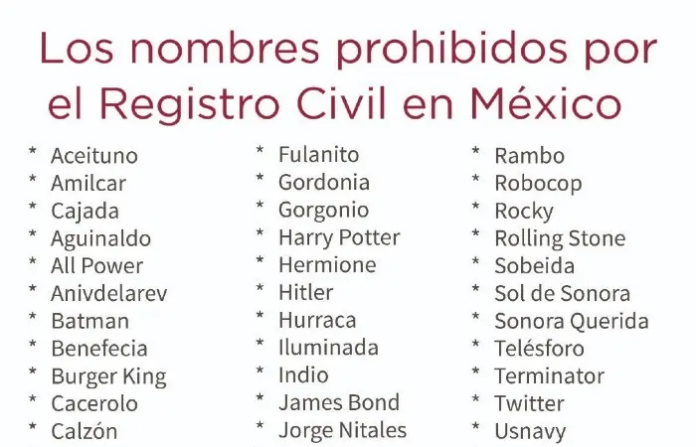 Five hours after the Mexico City DIF posted a list of 62 banned names on Twitter, the institution deleted the post.
The Civil Registry of Mexico City published a list of 62 "prohibited" names, with the aim of preventing cases of bullying of girls, boys, and young people.
The list was posted on Twitter, but after five hours the post was removed by the agency .
On the list were the names:
Aceituno, Amilcar Cajada, Aguinaldo, All Power, Anidvdelarev, Batman, Benefecia, Buerger King, Cacerolo, Calzón, Caraciola, Caralalimpio, Cesárea, Cheyenne, Christmas Day, Circuncisión, Culebro, Delgadina, Diodoro, Email, Espinaca, Facebook, Fulanito, Gordonia, Gorgonio, Harry Potter, Hermione, Hitler, Hurraca, Iluminada, Indio, James Bind, Jorge Nitals, Lady Di, Marciana, Masiosare, Micheline, Panuncio, Patrocinio, Petronilo, Piritipio, Pocahontas, Pomponio, Privado, Procopio, Rambo, Robocop, Rocky, Rolling Stone, Sobeida, Sol de Sonora, Sonora Querida, Telésforo, Terminator, Twitter, Usnavy, Virgen, Yahoo y Zoila Rosa.
Accompanied with the message: Were you thinking of using one?
Reactions to the post were immediate. On Twitter, the names of Hermione and Aceituno became a trend .
However, they were not the only ones. Amilcar was placed among the first seven places of popularity . The publications claimed the presence of the name of the Carthaginian general active during the first Punic War in the list of prohibited names.
Some users think that the error could have arisen in the edition of the infographic, by placing Almícar and Cajada in different lines.
Monero Paco Calderón affirmed that " Patrocinio and Petronilo are Latin names of ancestry. Pocahontas, an Algonquian princess. Telesphorus, a Greek god " and called the prohibition of these names "nonsense".
So far, the DIF of Mexico City has not ruled on the matter.