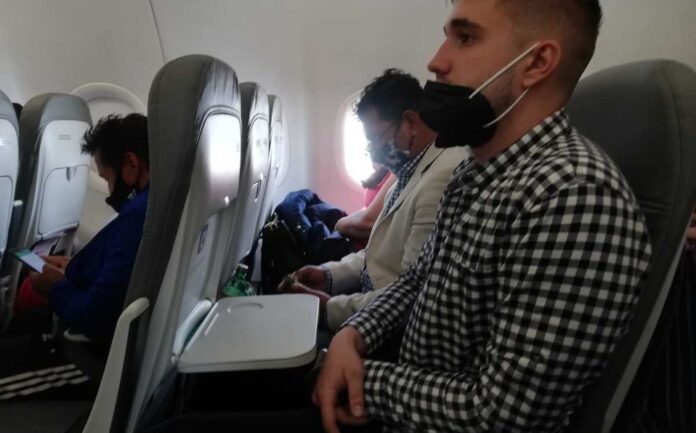 Dmytro traveled on Volaris Y4 1010 bound for Tijuana, Baja California; His goal is to get to the United States to meet more of his fellow refugees.
Dmytro Madai fled Ukraine because of the war. Today, without knowing it, he was one of the first passengers at Felipe Angeles International Airport.
"It was a coincidence, I looked for the nearest airport on the phone, this one came up and I bought the tickets," he said
Madai, originally from Bushtyno, acknowledged that he had not the slightest idea that the new airport in Santa Lucía, State of Mexico, was inaugurated on Monday.
Dmytro traveled on Volaris Y4 1010 bound for Tijuana, Baja California, where he seeks to meet more of his compatriots seeking asylum in the United States. He speaks little English, he communicates mostly with the translator on his cell phone, which made it a bit difficult for him to interact with the flight attendants and with the passengers who sat next to him.
Despite this, the young Ukrainian said he enjoyed the flight and even shows off the black t-shirt that Volaris gave to the passengers of this inaugural flight that has the legend: "I'm brand new. First flight Santa Lucía-Tijuana".
The inhabitant of Ukraine received a gift from the airline.
During the flight, Dmytro Madai spoke little with his companions in the row, put on his headphones and spent most of the time in silence, only the raffle for five round trips made by the airline caught his attention, although he says he did not know what was happening. "I was confused," he exclaimed.
For The Latest Mexico Breaking News, Mexico News in English, Living, Working, Investing, or Retiring in Mexico Please Join and Share our Page Click Here