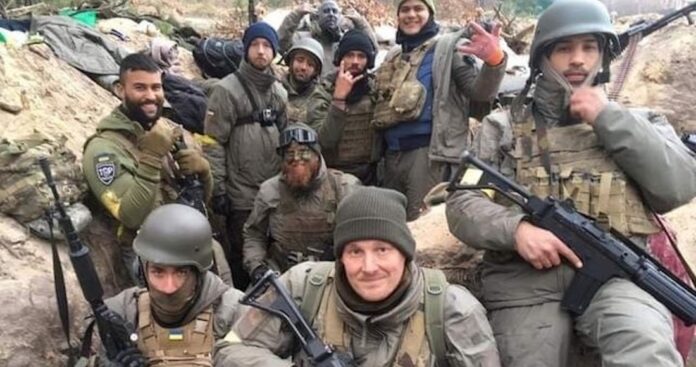 Among the volunteers there are citizens of the United States, the United Kingdom, Sweden, Lithuania, Mexico "and even India" who "help defend the capital", the Ukrainian army has highlighted.
The first volunteers to arrive in Ukraine after the start of the Russian invasion are already deployed on the outskirts of Kiev to defend the country's capital, as reported by the Ukrainian army on Monday.
"The first volunteers of the International Legion for Territorial Defense of Ukraine are already in position outside Kiev," the Ukrainian army reported on its Facebook account.
Among the volunteers there are citizens from the United States, the United Kingdom, Sweden, Lithuania, Mexico "and even India" who "help defend the capital," the Army has highlighted.
The Minister of Foreign Affairs of Ukraine, Dimitro Kuleba, assured that almost 20,000 foreigners had enlisted to fight the Russian troops in the first 24 hours of operation of the website opened to facilitate this process, fightforua.org.
Paseo de la Reforma, 730, Colonia Lomas de Chapultepec, Alcaldía Miguel Hidalgo, C.P. 11000, CDMX, México(00 5255) 528 247 89(00 5255) 528 247 44(00 5255) 787 807 08(00 5255) 528 247 68EmbajadaUcraniaMexicoukrembassymexhttps://mexico.mfa.gov.ua[email protected]
"The mobilization of free peoples of the world is simply impressive. Experienced veterans and volunteers from 52 countries around the world have connected. It is what they want. We have not hired or enticed them in any way. It is his wish to fight on the side of good," Kuleba said.
The Ukrainian authorities have announced the granting of unlimited visas to enter Ukraine to those traveling with the intention of joining the ranks of the International Legion for Territorial Defense of Ukraine.
"VOLUNTEER BATTALIONS"
Guide for foreign fighters on the way to Ukraine: routes and where to enlist via Telegram
Messages in several languages ​​offer safe routes to Kiev, addresses of recruitment centers, tips on weapons or where to exchange money before entering the country
"Information for all those foreigners who want to join the war against Russia". In this way begins the message that for hours has been spread in various languages ​​through chats on social networks such as Telegram. They include advice, itineraries to arrive safely in Kiev, even a specific address to go to enlist once they arrive in the Ukrainian capital. Guidelines are also given for traveling with weapons, both from Europe and the United States or how to avoid running into Vladimir Putin's troops.
In this sort of guide for volunteers, it is remembered that it is the President of Ukraine, Volodymyr Zelensky, who on February 28 invited anyone who wants to join an International Legion. For this, he signed a decree on the visa-free regime that came into force on Tuesday. At least the Spanish Embassy in Madrid has already started the procedures to organize personal interviews before proceeding with the transfer, but, in parallel, unofficial channels offer all kinds of details to make the trip on their own.
"How to join?", poses this message in an open chat that already integrates more than 7,500 people. To join what they describe as "volunteer battalions", you need to get to Kiev. They recommend flying to the closest Polish border cities to Ukraine such as Rzeszów, Lublin and Przemyśl. From there, the proposed route is to enter Lviv and find a way to reach the capital, Kiev. "Currently, western Ukraine is the safest part of the state," they explain. These messages are being broadcast in English, French, Spanish, or Turkish.
They propose safe ways to get there, such as through Bilogorodka, a village 280 kilometers from Kiev; Bila Tserkva, about 80 kilometers to the south, or use the Odessa highway. "Stay away from Zhytomyr because it is not safe and there is a risk of running into Russian troops," they recommend. That enclave is close to the other recommended ones. Once in Kiev, the address of the recruitment center is located, according to these indications, in the old ATEK factory on Peremohy avenue .
It is requested to carry a passport or any identity document. Also carry adequate equipment such as first aid kits, helmets, bulletproof vests, pads and sleeping bags or weapons. "All the volunteers who will arrive in Kiev will be divided into two groups: those with military experience and those without." The former will receive weapons before the latter, who will receive "military training and paramedic classes. " They recall that "there is a shortage of military equipment in Ukraine", so they recommend buying weapons in their countries of origin.
In one of these chats, you can see a group of at least five armed people in military uniforms, but with pixelated faces claiming to be from Spain: "The Spanish team is already in Kiev, get your ass ready, you Russian sons of bitches" . 19 comments reply to the photo, most giving encouragement or thanks, most in Cyrillic. A user responds with a photo of José Antonio Primo de Rivera, founder of the Spanish Falange.
To enter Ukraine with a weapon, it is necessary to have a license, they warn. To do this, they provide the website of the Department of Immigration and Customs Enforcement of the United States Government, specifically the "Guide for Americans traveling outside the US with firearms and/or ammunition" . For Europeans, they refer to the Union Firearms Directive. Social networks are plagued these last few hours with other messages and advice on where to exchange money in Poland before entering Ukraine, how to make a Molotov cocktail or the most vulnerable parts of a tank.
"Greetings from the Spanish"
"Greetings from the Spanish," says another message in which an Instagram photo can be seen. The profile is of a young man who poses nude, has more than 200,000 followers and an account on Only Fans, the social network in which people pay money to individuals in exchange for non-transferable erotic photos. There are other chats only for Spanish. One of them currently has fifty members. One of them is Francisco Floro Soler, whose testimony contained information from El Confidencial .
One of them claims to be already on the way "only with the DNI". Another warns those who do not accept them in the international Legion to try "Pravy Sektor" or with "the people of Azov in Kyiv" . These last two are groups of the extreme right or directly neo-Nazis that fight the Russians. The Ukrainian Embassy in Madrid itself admits that there are already Spaniards who have contacted to offer themselves as volunteers, according to EFE.
Source: sinembargo.mx, elconfidencial.com