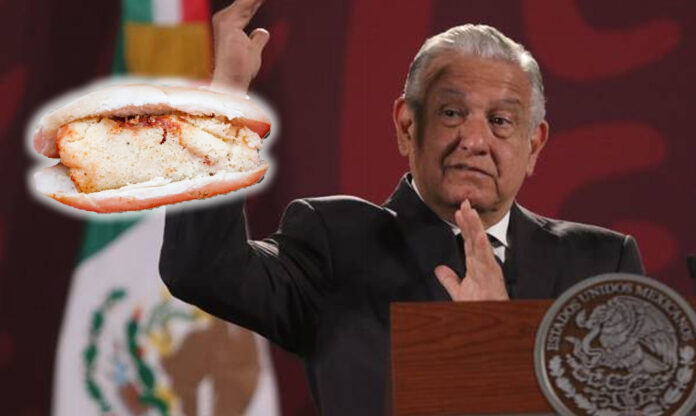 The Ukrainian embassy in Mexico questioned a Mexican journalist if he was paid in 'rubles or tamales'.
President Andrés Manuel López Obrador recommended sending a guajolota (tamale cake) to Oksana Dramaretska, Ukraine's ambassador to Mexico, after racist comments made by the Ukrainian representation to a Mexican journalist.
"I think it was an ambassador from I don't know what country who answered (to a journalist) 'you are subsidized or they are giving you items or tamales.' Imagine, she doesn't know what tamales are. It's like sending him a guajolota, " he said ironically during the morning press conference on Monday.
The president referred to the controversial response given by the Ukrainian embassy in Mexico to the journalist Gabriel Infante, whom they accused of defending the Russian government in exchange for " rubles or tamales ."
"… And he continues to defend Russian propaganda without ever having visited Ukraine. So we have a question for you, Mr. Journalist: do you get paid in rubles or in tamales? ", wrote the Ukrainian embassy in Mexico on its official Twitter account.
The classist message was deleted minutes later. However, it can be found on tweetstamp, a platform that uses blockchain technology that keeps a true and verifiable copy of the original message even if it is deleted from Twitter.
Mexican journalist Gabriel Infante exchanged tweets with the Ukrainian representation in Mexico over the weekend.
The embassy released a video showing a Russian war truck crushing civilian cars in the city of Kiev. In response, Gabriel Infante pointed out that Ukraine was censoring the media and participating in the spread of Fake News.
Given this, the Embassy of Ukraine invited the journalist to attend to talk about the issue at its facilities, which ended in an act of discriminatio .
After the racist and classist messages, the Mexican journalist decided not to accept the "invitation" from the Ukrainian embassy.
" Seeing how little diplomatic and serious you are, I don't see the point in talking to you," said Gabriel Infante.
Source: elfinanciero.com.mx