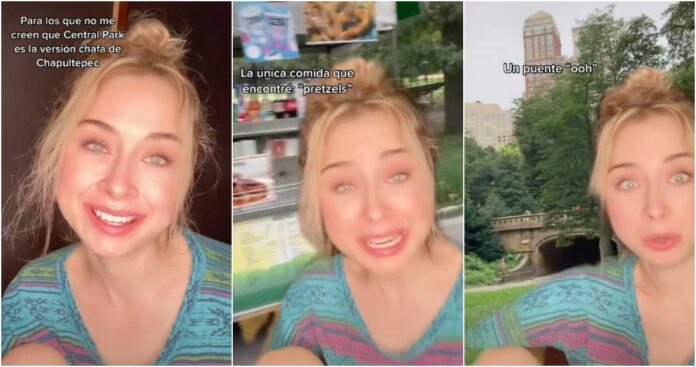 The young woman's statements already add more than 60 thousand likes on social networks and hundreds of comments agreeing with her.
Mexico is an extremely attractive country for tourists from all over the world since it is rich in places of recreation, culture, natural landscapes, and gastronomy; For this reason, many foreigners prefer to vacation in Mexico than in the United States.
Such is the case of a young Australian who went viral on TikTok for expressing her opinion that Central Park in New York is the "chafa version" of the Chapultepec Forest in Mexico City, and after seeing their arguments, it makes one think who is right.
It was the user @itbends who shared her point of view on the social network, and her video already has more than 60 thousand likes and hundreds of comments agreeing with her because her biggest complaint was in Central Park there is nothing tasty to eat." For those who do not believe me that Central Park is the shabby version of Chapultepec: The only food I found was pretzels, the driest thing in the world. Closer to cardboard than food," she said.
And it is that the young woman affirmed that she really did not find much to see or do in the New York park that is not easily found and of better quality in the one found in Mexico City."A shitload of grass, a bridge, skyscrapers … well Reforma has many, activities, restaurants, bars and musicians playing. The truth is very NYC central park is very boring," she said.
Some users point out that Chapultepec also has a museum, a castle, a zoo, and a nursery, in addition to street vendors.
Still, others took advantage of the comments to revalue many Mexican landscapes that are better appreciated by foreigners than by locals. "It is that the majority of the band does not value, and the TV and Hollywood hypnotize them and they believe that the best that exists is in the USA when here is Mexico are very the cool things", wrote a user.
Location