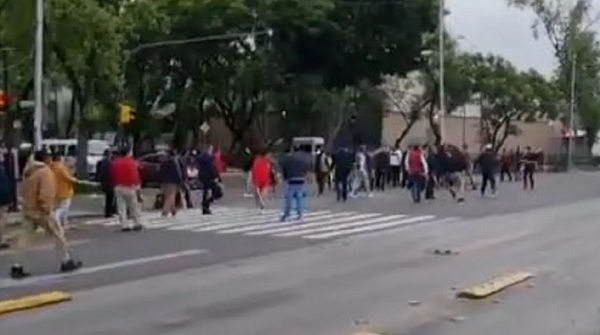 Demonstrators demanding the resignation of the national president of the PRI political party, Alejandro Moreno, were beaten by opposing groups, generating a brawl on Avenida de los Insurgentes that blocked vehicular traffic.
"I hold Alito, Ruben Moreira, José Murat, and Israel Betanzos responsible for any aggression suffered by the militants who are peacefully demonstrating outside the PRI headquarters. This is a matter of politics, not of punches and kicks, "said the former governor of Oaxaca and the main promoter of the demonstration, Ulises Ruíz through his social networks.
Meanwhile, the PRI national leadership, uploaded to its official account, videos with injured people and another group armed with sticks and stones whom they identify as Ulises Ruiz's followers.
Meanwhile, eight sectors and organizations belonging to the PRI, expressed through a statement, their support for the National Executive Committee (CEN) "in the face of the attacks allegedly carried out by order of the former governor of Oaxaca, Ulises Ruiz Ortiz, and by Nallely Gutiérrez Gijón."
They accused Ruiz and Gutiérrez Gijón of having "a questionable trajectory" and of being linked to AMLO's Morena political party and having a deal with them to destabilize the PRI, so they can take control of this political party and join forces with Morena in order to regain the majority in the Lower Chamber of Congress.

Este es el equipo de gente armada que @ulisesruizor envío al @PRICDMX_ en donde había un evento de militantes para respaldar a la dirigencia nacional. No vamos a permitir que la violencia se apodere del PRI. A punta de balazos quieren dividirnos. ¡No lo vamos a permitir! pic.twitter.com/tr4Yju7WJ3

— PRI (@PRI_Nacional) June 30, 2021
"We are demonstrating in peace": Ulises Ruíz said.
Ulises Ruíz in an interview with Milenio mentioned that "there is no aggression, we are demonstrating peacefully outside the PRI headquarters, we did not enter by force. We are demonstrating in peace ".
Likewise, he blamed the national leadership of the PRI for any aggression that arises against him and his people during his sit-in.
On the other hand, Ulises Ruíz asked for an interim leadership to convene a national assembly after the results of the elections.
"We ask for the expulsion of several militants, including Enrique Peña Nieto (who is still a member of the party). We are going to remain on Insurgentes Avenue until Alejandro Moreno resigns, "he stressed.
Source: 24 Horas