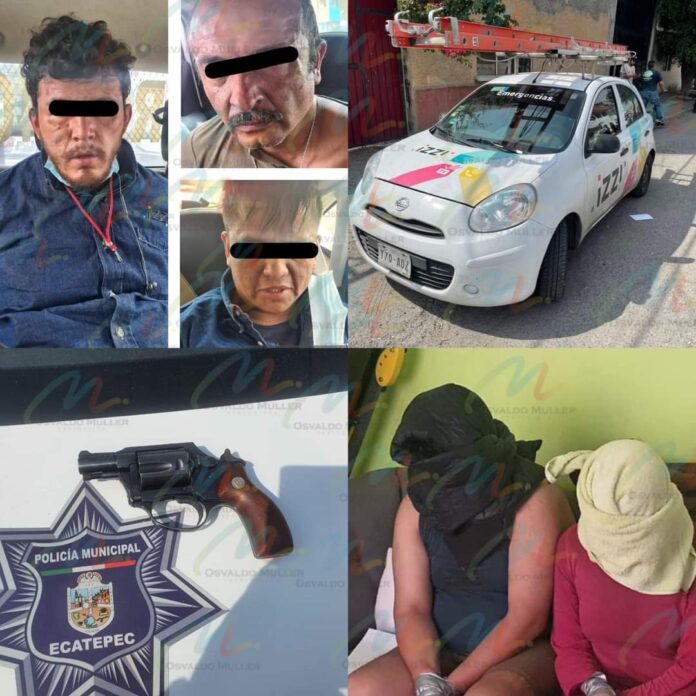 Criminals called the relatives of their victims to demand a ransom of 100 thousand pesos.
A family was released by municipal police of Ecatepec, in the State of Mexico; the five members were kidnapped in their own home, because three subjects, disguised as workers of a well-known telecommunications company, gagged and tied them up.
The three men arrived with uniforms, badges and a vehicle with false logos at the family home, located in the Granjas Valle de Guadalupe neighborhood. With deceit and posing as employees of the telecommunications company, they entered the house and kidnapped all the members who were in the house at the time.
How did they arrest the kidnappers?
The policemen were patrolling Miguel Hidalgo Avenue when a man asked them for help; he reported that five of his relatives were kidnapped inside his own home on Segunda Prolongación Oaxaca Street, in the aforementioned neighborhood.
The Ecatepec policemen moved to the scene and the relative opened the door of the house, where five people were gagged. Two subjects tried to jump the marquee of the other home, and another man wanted to flee to the public address, but were arrested.
The three men were using badges and camisoles from a telecommunications company that provides telephone and internet services, allegedly tricking family members into accessing the home. Once inside, they grabbed the five people in the family with two firearms and gagged them.
The three men, alleged kidnappers, arrived at this family home in a white March car, with license plates T70-ADZ, with fake company logos.
After the arrest and after releasing the kidnapped relatives, the municipal police secured two firearms: a revolver with five useful cartridges and a squad-style pistol.
The detainees were presented to the Public Prosecutor's Office, where an investigation folder was initiated for their probable participation in the commission of various crimes, including kidnapping.
HERE'S THE FULL VIDEO OF THE RESCUE OF THE KIDNAPPED FAMILY: