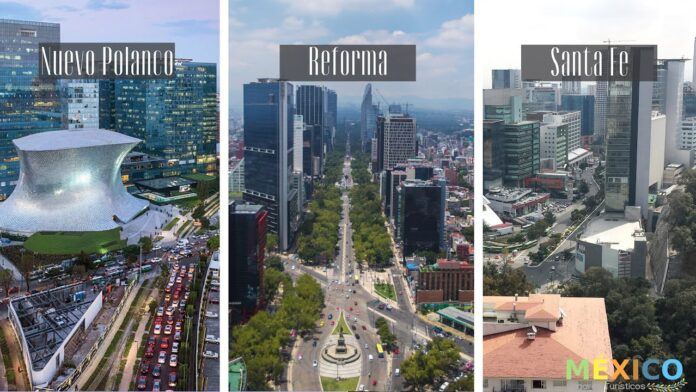 Nuevo Polanco Vs Paseo de la Reforma Vs Santa Fe in Mexico City
Nuevo Polanco is one of the most exclusive areas of CDMX, but not for that reason unreachable for all the public. In addition to designer boutiques and five-star restaurants, there are many options of all kinds such as museums, restaurants, parks and shopping centers.
Paseo de la Reforma Avenue – When this avenue was created it was called Paseo de la Emperatriz. Emperor Maximilian of Habsburg ordered to build a street to connect his residence in the Chapultepec Castle with the National Palace.
Santa Fe area – If you are looking for some of the most impressive modern architecture buildings in Mexico City you will find them in Santa Fe, this one is located on the outskirts of the city. The beautiful and modern buildings are particularly impressive as, until a few years ago, the area was often used as a garbage dump.
Get to know the Mexico City Skyline with its most important buildings, skyscrapers and skyscrappers.
Walk with us a series of drone videos of the cdmx
Mexico City is one of the most fascinating cultural destinations in the world. It is one of the three cities with the largest number of museums in the world, it also has an invaluable historical legacy, a gastronomic offer applauded around the world and hundreds of places to fully enjoy your stay in the country's Capital.
Mexico City is one of the few cities in the world with a history as broad as its very existence. It is the capital of the country, with a metropolitan area that has hosted important human settlements for more than 2,000 years.
Over the centuries, Mexico City has accumulated a rich history, from its Aztec ancestors to Spanish colonization and the period of the Mexican Revolution.
Thus, arts, culture and historical sites abound, offering visitors the opportunity to explore pre-Hispanic sites such as the ruins of the Templo Mayor and some of the world's most important contemporary art museums.
Mexico City offers a burgeoning arts, music and theater community. Home to hundreds of museums (more than 150) and art spaces (more than 100 contemporary art galleries), and the birthplace of legends like Frida Kahlo.
Cultural experiences range from exhibitions, galleries, cinemas, and performances by the Ballet Folklórico de México to Lucha Libre.