The pandemic forced her to limit 5 to 2 appointments per day, to cancel home visits, to avoid certain sexual positions
Xalapa, Veracruz.- The catalog of sexual services offered by "Karly", a 34-year-old worker, has changed drastically since the arrival of Covid-19. The pandemic forced her to limit 5 to 2 appointments a day, to cancel home visits, and to avoid some sexual positions.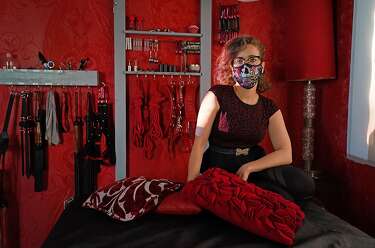 If before he did not exchange kisses with his clients, now less. It has established as mandatory the use of the mask by both during the entire sexual act. 
Before physical contact, apply a sanitizing solution to your body and that of your clients. Also, between each service change the bedding and pack your clothes. This is the time-based sex service of the Covid-19.
" Yes, the way of working has changed a lot. I am very strict with care because in the end it is my health and that of the client that is at risk ", he says.
Karly explains that for her face-to-face positions have been forbidden and most of the quickies and services are given in the missionary position on her side or doggy style. He acknowledges that, although some clients have been bothered by these modifications, most have taken them in a good way, thinking of the necessary measures to limit the transmission of the virus as much as possible. 
" In addition, on the subject of mornings that I continue to offer, most prefer as a puppy because they go to what they go, " he says.
The decrease in sexual services for Karly and the rest of her colleagues has resulted in a decrease in her income. And although in her case she had a savings fund that has allowed her to resist a little during these months, the Xalapeña worker acknowledges that not all her colleagues have suffered the same fate, so many have had to keep up their work rhythm. despite the risk that this implies.
Others have had to explore other options for activities outside the sexual realm and in order to have extra earnings. And, he explains that in general the demand has also decreased since his clients also face financial difficulties due to the closure of their companies or the loss of their jobs.
"For example, in my free time I do bakery and pastry and now it has become a business through home delivery. They ask me for the order online and it is sent so as not to have contact with the client " , he explains.
With more than four months of "quarantine", Karly says that she has had to explore other alternatives to sex work by having more contact virtually. Although it already included it in its catalog, the sale of packs, photos, and sexual video calls have increased considerably in order to have completely safe experiences for both parties.
 "That has left significant income these days. I think that I will continue like this until at least October and then it will be seen, in the end, the important thing is to be well so that my family is too , "she concludes.
Sex workers receive 1,500 pesos for Covid-19 contingency
CDMX authorities gave sex workers in the vicinity of the Metro Revolution a card with financial support for the closure of hotels, where many lived and worked.
A group of sex workers and sex workers of the delegation Cuauhtémoc received a card with a financial aid of 500 thousand pesos , after the damages against him because of the closure of hotels by the health emergency of the coronavirus .
"We are warriors and we will continue working!" Said one of the sex workers who demonstrated on Wednesday next to the station the Metro Revolution station, during the delivery of support cards issued by the Government of Mexico City.
In an interview, the worker -who omitted her name- assured that the cards, without balance for now, were delivered by the Head of Government, Claudia Sheinbaum , and they will be for people who do not have a fixed salary, that is, for sex workers, boleros, among others.
He explained that the grouping Brigada Callejera has provided support through a card with a balance of 1,500 pesos for the acquisition of medicines, food and pantries.
Thus they will continue working as "warriors", given the lack of resources for their maintenance. She mentioned that the group of sex workers works more than 12 hours to be able to get one or two clients per day.
"As long as there is no deposit on our cards, we will stay to work day and night, because nobody pays our rent. It is a very complicated situation because it has dropped too much, because the clients see us as ugly, and we are more than eight to 24 hours, day, afternoon and night, we are here and only for one client ".
Source: elsoldecordoba.com.mx, 24-horas.mx